Gluten Free Dining in Leicester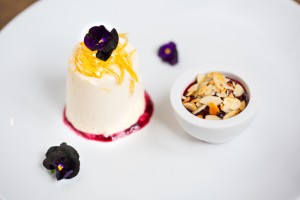 Coeliac disease is anautoimmune disease caused by intolerance to gluten and effects one in one hundred people. For these people, eating out has historically been tricky – but more recently the popularity of gluten free diets for other health, wellbeing and weight loss reasons has made that little 'gf' symbol on the menu much more commonplace.
This makes life easier for both those who suffer from coeliac disease and those who choose to eat gluten free. Many people may be mildly sensitive to gluten, and some nutritionists believe cutting it out, or at least cutting it down, could help with digestion, inflammation and energy levels.
Since last year all caterers have to provide, by law, allergen information for any non-pre-packaged food, and although many restaurants in Leicester are increasing paying more attention to the presence of gluten free diners, many places only offer a few limited options.
Here at Maiyango Restaurant we are proud to offer a menu with many gluten free options. Our head chef and dedicated team work hard to create delicious, award winning food that is accessible to as many people as possible, without losing any of the flavour or creativity.
A number of our dishes are also vegetarian and vegan, and all dishes highlight any dairy ingredients or nuts they may contain. This may be one of the reasons we are finalists in Visit England's Taste of England category this year!
Some of our favourite gluten free dishes, from the current spring menu:
• Coconut marinated salmon wrapped in seaweed, jasmine rice, beetroot, chilli and coriander salad
• Slow cooked beef fillet, mushroom puree, treacle reduction, asparagus, truffle sauce
• King scallop and pork belly, xo sauce, red pepper dressing
• Asian vegetable rice roll, garlic jam, plum wine broth, coriander
• Lemon iced soufflé, winter berries, almonds
The great thing is, many of the ingredients we use, (that you can use at home to cook too) are naturally gluten free, such as fruit, vegetables, meat, poultry, fish, cheese and eggs. With the fantastic Leicester Market on our doorstep, where we source much of our fresh produce there is no excuse.
We are also regular visitors to both Leicester Whole Food Co-op and theindependent vegetarian and vegan wholefoods store, Current Affairs for our gluten and allergen free produce. Although grains can often the problem, there are some fantastic gluten free options to use in recipes, such as quinoa, teff, amaranth, polenta, buckwheat, corn, millet and tapioca.
Other things to remember when eating out gluten free:
• Drinks -cider, wine, sherry, spirits, port and liqueurs are all gluten free, but most beer, lagers, stouts and ales will contain at least some gluten. Most vodka also contains gluten however we do use a potato vodka so all our vodka based cocktails are gluten free!
• Condiments – soy sauce contains gluten, so avoid adding this to your meal! Other condiments such as ketchup will vary, so just check with the waiter or check the label if you're not sure.
All of our menus are always available online so you can take a look at the dishes before you arrive. If you're still a little unsure about anything please just call ahead and one of ourrestaurant team can talk you through the menu and answer any questions you have. Once you are here, just let your waiter know if you have a special diet and we'll make sure your visit is relaxed, straight-forward and most of all enjoyable!